There are very few movies that are able to impact the movie industry to the point that is effects an entire genre. Star Wars was the movie that impacted the science fiction genre, James Bond was the movie series that allowed for the action genre to grow and for the horror genre it was a film called Pyscho. This film saw the portrayal of a young man who's insane, pretending to be his mother only to find out that he has already killed his mother and many other people. Well today for fans of the cult film,they will find that NextGen Gaming, a software developer from Australia, is releasing a slot based on the cult classic film.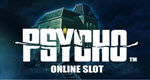 Before this slot was revealed to players it was first announced that Universal Studios and NextGen gaming has come to a licensing agreement. No one was aware as to what this partnership would flourish but none the less an incredible slot bloomed from this licensing agreement. Pyscho has been designed as a 5 reel, 25 payline slot that offers a number of features including Wilds, Free Spins & Win Multipliers.
Unfortunately we are unaware as to when this slot will be specifically released to players. We do know that it'll be released within the first quarter of this year. Those who want to play Pyscho will have to wait until it is released and will have to have an account register with an online casino providing the NextGen Gaming Platform. This slot will also be coming to NextGen Gaming's mobile platform as well, giving players the chance to play it whenever they so please.